Vinification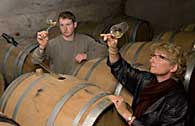 Like man, wine starts life with a certain potential, the equivalent of a genetic imprint that will determine its ability to withstand time.
Part of the harvest is vinified in oak barrels to create the right conditions for controlled oxidation and make our wines rounder and more opulent. The remainder goes into enamelled tanks.
Racking sessions are timed to coincide with the most propitious days, according to Maria THUN's lunar calendar

Blending
Like an artist selecting his pigments,
Like a composer writing a symphony for a host of instruments,
Like a florist forming a bouquet with different shapes and colours,
Like a nose creating a new fragrance from essences found the world over,

Françoise BEDEL blends different wines with a view to creating another cuvée each time.
Geology, direction and angle of the slope, localities and parcels - all play a role in this creative process.
We make our blends by combining wines with different aromatic and organoleptic properties. It demands the constant pursuit of a special harmony between different notes. Various tasting sessions are held between October and May (on a fruit day, according to Maria Thun's annual planning calendar) to monitor the development of our wines and familiarise ourselves with them. From one tasting to the next, they are thus memorised, as are the reserve wines envisaged for use in the ultimate blend.

Tasting draws on the following senses:
Sight is used to evaluate the colour of a wine.
A sens of smell distinguishes fruity, floral, wood or spice aromas.
Taste picks up on fleshiness, richness, vinosity, finesse or lightness.
The blending process itself is a leap into the future and may take days or weeks. A number of versions are tested and opinions gathered before we make a final decision on a blend - an irreversible and unique operation that embodies a style and character entirely specific to us.
Bottling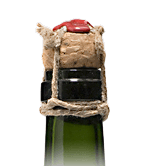 Some of our barrel-aged wines are bottles using cork stoppers, an ancestral practice that goes back to 1685 in Champagne. The bottling operation is carried out in accordance with Maria Thun's planting calendar and takes place on a "fruit day", because wine is the natural extension of fruit.
This is followed by the second alcoholic fermentation and a maturing period on the lees, which is when the wine acquires its sparkle.
Dosage and Disgorging
The final tuch before the corking, dosage consist of adding a very small amount of liqueur de dosage ot bottling liqueur. We are in pursuit of the ideal balance of sugar and acidity. Immediately following this operation, the wine is stoppered and moves on to a new phase in its maturing process.
The Estate propose you as well a special cuvée of Champagne undosed, the Brut Nature.
The cork stopped, held in place by a wire cap or muzzle, provides optimum seal whilst allowing a certain degree of gas permeability.
All our riddling and disgorging operations are done by hand and all our Champagnes are aged a number of years to allow each one to develop its aromatic complexity.
Mise à jour le