Progressive move towards Biodynamics
History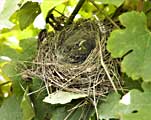 In 1982, as a result of my son's health problems, I met a couple of homeopathic doctors who introduced me to the benefits of homeopathy, which helps us explore a different way of taking care of and nourishing ourselves, as well as a new way of thinking.
In 1996, I came into contact with different peaple involved in Biodynamics.
From 1997 onwards, we began to introduce sounder methods of working on our estate in relation to environment, vineyard, terroir and the quality of our wines.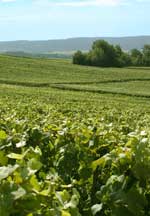 In 1998, we put biodynamic techniques into practice on 2 hectares (almost 5 acres) of vines, abandoning the use of weed killers and tilling the soil with a plough. Teamwork was developed.
By 1999, all the 7 hectares (just over 17 acres) were under conversion to biodynamic viticulture for certification by ECOCERT SAS.
2006 : The vineyard is enlarged to its current size of 8,40 hectares (20,75 acres). All of it is worked biodynamically.
Preparations
Various preparations are used on the Domaine
Preparation 500: (Horn Manure) acts on the plant, and reinforces the subterranean biodiversity. The roots lengthen, deepen and spread more densely and evenly in the soil.
Preparation 501: (Crushed powdered quartz buried in Cow's horns) helps in leaf development and initiating blossoming. It is applied early in the morning, at sunrise.
Preparation "Maria Thun" (MT): a compost of dynamized cow manure reinforces the process of decomposition. All its ingredients contribute to the development of complex humus clay. A large number of microorganisms improves soil life. After years of research "Maria Thun" was able to document the cosmic influences on plants. The sun, the moon and all the other planets influence in their own manner life on this Earth, be it vegetal, animal, or human...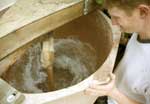 All these preparations must be dynamized in water in a dynamizer.
Mise à jour le