Our Methods
The Harvest

The harvest
During a whole cultural year with my team, we do everything possible to produce a beautiful grape.
An important phase: the date of the beginning of the harvest. The date of the harvest is decided after tasting the grapes and analysing the must (grapes that have just been pressed).
We carry out this analysis in order to find the balance between sugar and acid. The grapes are harvested manually by a team of people who have been coming to the Domaine for several years in a row.
Our 3 grape varieties are pressed individually and the different plots and locations are separated. From the picking to the sending to the winery, everything is done to reduce the contact of the juice with the skins and the raffle.

Pressing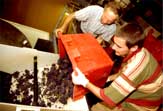 Pressing
The pressing is carried out entirely at the Domaine Françoise BEDEL, which has a pneumatic press. A good pressing preserves the potential longevity of the grapes by being carried out in a soft and progressive way. The fractioning of the juice from the different grape varieties and terroirs allows for an additional selection.

Mise à jour le 11/05/2021