Our Methods
The Harvest
Throughout the year our team does its best to produce beautiful grapes.
Harvesting is carried out by hand and continues to be an important stage in the process.
Before taking decision for the date of the harvest, we taste the fruit and analyze the must (freshly pressed grape), seeking a perfect balance between sugar and acidity.
Our three grape varieties are pressed individually and grapes from different plots of vines are handeled separetely.
From picking to transporting the grapes to the winery, everything is done to reduce contact between the juice and the skins and stems.
Pressing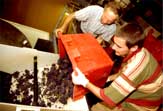 All the pressing is done at the Domaine Françoise BEDEL & Fils, in our 4000 Kg pneumatic press.
By gently and gradually pressing, the fruit's potential for longevity is preserved.
Separation of juices allows for further selection.
Mise à jour le