The Champagne Françoise BEDEL estate
Françoise BEDEL & Fils, owner - harvester, cultivates 9 hectares of vines aged from 30 to 60 years.
The parcels are spread out on either side of the Marne, Crouttes-Sur-Marne, Nanteuil-Sur-Marne, Charly-Sur-Marne, and Villiers-Saint-Denis.
Fernand and Marie-Louise Bedel were the first generation and Françoise Bedel took over part of the estate in 1979.
The plots have different subsoils, which allows for blending according to the terroirs and the elaboration of 'terroir' cuvées. The champagnes are the expression of a rigorous method that brings out and enhances the qualities and particularities of the earth, the vines and the fruit.
Because I love plants, life in contact with nature, and passing on a healthy land to the next generations, I have been cultivating my vineyard organically since 1998 on the entire estate.
" Nous n'héritons pas de la terre de nos ancêtres. Nous l'empruntons à nos enfants".
(Antoine de Saint Exupéry)

I am constantly looking for harmony and balance in the vineyard and the wine.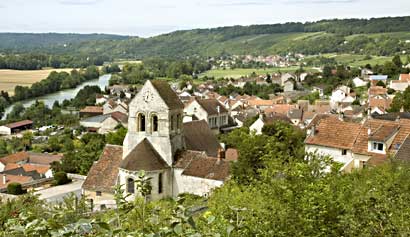 Mise à jour le 31/08/2022